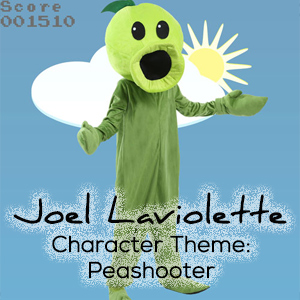 Video Game Music: Character Theme
–Joel Laviolette
Cleared for licensing: Yes  
Tags: African, Ambient, Contemplative, Downtempo, Drums, No Vocals, Odd Time Signature, Sound Design, Story, Video Game, Wistful
About Video Game Music: Character Theme:
Video Game Music "Character Theme". I picked the character by googling "video game character" and I closed my eyes and randomly scrolled down and picked one without looking. I figured that would be similar to being given a random job to create a character. Once I picked the character, I filled out the profile of the character and the backstory:
Name: Peashooter
Age: Adult
Gender: Unknown
Appearance: Green. A big pea gun for a head.
Personality: Silly with friends, but serious about his/her mission.
Role in the game: Hero
Skills: Shoots Peas out of it's face!
Goals and motivation: Zombies took over their world and Peashooter is their last hope of surviving.
Short history: Zombies are trying to take over their planet. She/He is the hero that can save them all.
Origin of Inspiration: Character
Number of Instruments: 3
What Instruments: Tribal Percussion, Marimba for melody, pad (I went overboard here and ended up adding bass as well).
sounds
Song Length: 1:05
Composing Melody: Melody-first
How the song will sound: percussive and tribal but melodic. "bubbly".
Metadata:
Song Title: Video Game Music: Character Theme
ISRC Code:
BPM:
Length: 1:05
Artist: Joel Laviolette
Composer: Joel Laviolette
Publisher: Joel Laviolette Publishing
Cleared For Licensing: Yes