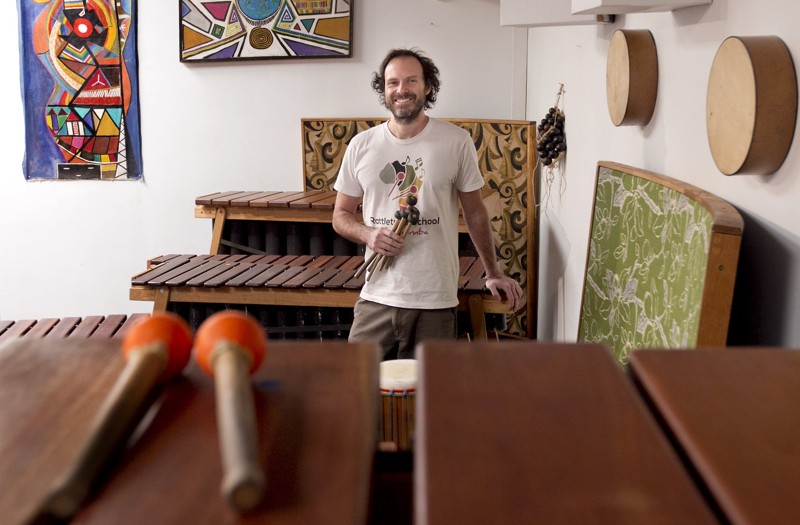 "Without community, the music can't happen."
-Joel Laviolette
Joel Laviolette is a composer, educator, builder and connector based in Austin, Texas. His musical
experience spans genres and crosses borders, weaving in elements from electronica to African marimba
and mbira traditions. Joel's rich musical past has shaped his present-day focus on fusing varying musical
styles into his compositions. As the Founder and Artistic Director of the Rattletree School of Marimba in
Austin, Joel and his wife Rakefet co-run the school and are proud to teach African musical traditions
rooted in collaboration, community and intrinsic balance. His personal musical journey has taken him
from New Mexico to the University of North Texas to Zimbabwe, where his lifelong mission of learning
and teaching mbira music began.
With over 1,000 live shows performed to date, Joel's unique style is informed by his love for mbira music
and modern-day electronica driven by counterpoint and multiple melodies in a cyclical style. Joel settled
in Austin in 2006 when he formed Rattletree, a two-time Austin Music Award-winning world electronica
group that combines Zimbabwean musical traditions with ethereal synth sounds in a truly unique live
show experience. As the artistic visionary for Rattletree, Joel incorporates cutting-edge video projection
mapping technologies to create a one-of- a-kind blend of audio and video media for live shows. His
custom synth work combines the visual and the audio in an unparalleled sonic experience for audiences
and music professionals alike.
Joel has been featured on NPR and has lectured and performed at SXSW, the Austin City Limits Music
Festival, PASIC and at numerous schools and universities worldwide. As a member of the Grammy
Recording Academy, Joel has released and produced several albums and instructional videos and builds
custom marimbas and modular synths for a wide range of groups and clientele. Joel's innovative work
has been celebrated and recognized in the Austin community and beyond and can be accessed via the
online music catalog.
As a longtime music industry professional, Joel's greatest pride is the trust and satisfaction he sees in
working with each of his clients. For inquiries on custom builds, sound design, sync and licensing work,
please reach out to Joel via the contact form.
Recent Articles and Press:
Austin American-Statesman
Austin Chronicle
Culturemap Austin
Austinot
Awards:
Austin Music Awards "Best World Music" band (Rattletree, 2015-2016 and 2016-2017)
Esme Barrera Award for Activism and Music
Four-time recipient of the Enjoy Texas Music Grant
Grant recipient from the State of Texas to build marimbas for the Texas School for the Blind
Memberships:
ASCAP Composer and Publisher
Texas Commission on the Arts (TCA) Touring Roster Artist
Percussive Arts Society (PAS) World Music committee member
The Recording Academy (Grammy) member
Partial Client List:
The Long Center
NPR
SxSW
ACL Festival
Mr. Greenhearts Treehouse
Percussive Notes
Sound On Sound Magazine
Save Our Springs Alliance
The City of Austin
The Herb Bar
Fox 7 News
KUTX Radio
KOOP Radio
WWOZ New Orleans
Art Outside
Luminaria Festival
Waco Tribune Herald
KERA Dallas