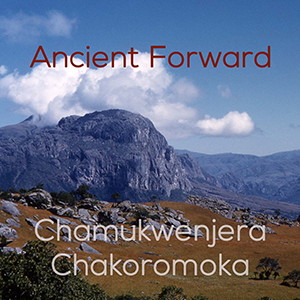 Chamukwenjera Chakoromoka
–Ancient Forward
Cleared for licensing: Yes  
Tags: Contemplative, Drums, Full Band, Guitar, Happy, High Energy, Jump, Mbira, Profanity, Shona, Sweat, Trance, Uplifting, Vocals
About Chamukwenjera Chakoromoka:
This song started in my head many many years ago….The term "Chamukwenjera Chakoromoka" is one of those "deep Shona" sayings that has many different meanings and most Shona speakers don't even know what it means….the few elders and poets that do will often all have very different interpretations. Here is my interpretations:
Cha-mu-kwenjera: The 'cha' is referring to the "thing" in this case the thing is a mountain. -mu- is 'you'. -kwenjera….This can mean to climb . So "The mountain that you climb". ("Chamukwenjera" is also the name of an actual kopje in Zimbabwe.)
Chakoromoka: this is one of those "deep" words. I have learned it to mean to fall backwards-the image I get is like an avalanche but the things that are falling down are falling above your head and going behind you.
It's like there is this person climbing a mountain….but every step that person takes up the mountain, the top is falling back down and crashing behind them-creating a loop. The person will never reach the top.
That's why I say in the lyrics "The thing you think you lead is the thing that controls you. "
This was a really special song to record. When I was on tour with Stella Chiweshe many years ago, I played her the acoustic intro of this song (all there was to the song at that point), and I sang what I had. She was so moved by the song-she told me that I must record it and for the rest of the tour she was always asking me to play the song for her.
Years later, I had to opportunity to bring Matemai to Austin while he was on a trip to the US. I imagine some of you reading this got to spend some time with him on that trip. I was in the middle of recording an album and he sat in on several songs-including this one.
In the Shona that he speaks in the song, he is telling a common theme to many of his songs….change….he talks about how you may fall in love with someone and you think they are the only one you will ever love and how you have found your "soul mate", but then time goes on and you may be surprised to see that you are not as in love any more and that person is not in love with you. You shouldn't be sad about this because that's the way that life works. We think that we know how things will be but they always change….chamukwenjera chakoromoka.
The backing vocalists on this were the amazing Libby Kirkpatrick, Molly Venter, and Erin Ivey-and of course Matemai. Michael Hynes performed the bass solo, and the beautiful drums were performed by Wayne Salzmann III. I performed everything else.
I hope you like it!
Iye iye wonde nde nde nde ya
Chamukwenjera Chakoromoka
Chakoromoka
Kunoenda kuvadadisa
kuvadadisa
Released November 16, 2016
Joel Laviolette – mbira, guitar, Bass marimba, baritone marimba, vocals
Newton Gwara – Vocals
Libby Kirkpatrick- Backing vocals
Molly Venter – Backing Vocals
Erin Ivey – Backing Vocals
Wayne Salzmann – Drumset, congas
Michael Hynes – Bass GuitarRecorded at Hideout Studio, Austin TX
Mastered at Terra Nova Studios Austin, TX
Metadata:
Song Title: Chamukwenjera Chakoromoka
ISRC Code: QMDF81600011
BPM: 97
Length: 4:24
Artist: Ancient Forward
Composer: Joel Laviolette
Publisher: Joel Laviolette Publishing
Cleared For Licensing: Yes